Partnering and building alliances is the preferred model of business growth for many CEO's. Collaboration has a multiplier effect; it leverages the expertise, resources, and talent beyond the walls of a single organization.  "Collaboration is the number-one trait CEOs are seeking in their employees, with 75 percent of CEOs calling it critical" in IBM's most recent study surveying 1700 CEO's. This was shown to be particularly true of the overperformers in the study, the population of companies that exceed their peers in revenue growth and profitability.  Overperformers were partnering extensively and seeking alliances to innovate, create new products, implement more efficient operations, enter new industries, even creating new opportunities by driving disruptive change.
Yet many companies lack the fundamentals to collaborate effectively.  We have found in our practice that successful collaborative business relationships are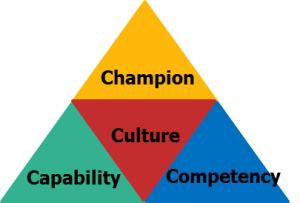 built upon these fundamentals:
Champion – an executive sponsor from each partner of the collaboration to represent company interests and to ensure strategic alignment.
Capability – describes an organization's ability to manage collaboration through processes, tools, and best practices of alliance management.
Competency – the personal skills required to lead virtual teams, resolve conflict, gain trust, and work productively within partner collaborations.
Culture – the norms, values, and attitudes that underlie partner friendly behavior and supports successful collaboration.
"Alliances are key to Philips to drive growth in a number of important markets and technologies and must have structures, resources and management attention to be successful"
Gerard Kleisterlee  –  CEO and President, Philips