Collaborative Skills Mastery and Professional Development
Embracing Excellence – Embedding Best Practices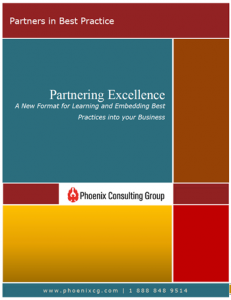 We offer a comprehensive training and skills mastery program to enable your team to achieve greater partnering performance. Our instructors are certified at the highest credential level of the profession as Certified Strategic Alliance Professionals (CSAP). We provide experiential learning for every phase of the partner management life cycle, from inception and management to transformation and termination.  Our breakthrough format for professional development ensures that class learning is retained and is embedded into your partnering organization through practical application leading to greater partner performance and immediate business impact.
Embedding Excellence Learning Format
Hear how companies such as Microsoft, Intel, and Cisco have leveraged the Embedding Best Practice learning format to embrace excellence in their partnering processes.
ASAP Education Provider Approved Courses

Phoenix Consulting Group is pleased to be recognized as a charter member of the ASAP Education Provider Program. Under this program selected courses are reviewed and approved by a panel of alliance experts and will earn credentialing points for alliance professionals seeking to renew their CA-AM credential or attain their CSAP credential.
"All in all this was one of the most useful professional development sessions I have participated in. It addressed business issues and challenges key to my current business. Well done by all. I now have the tools to use to prepare and evaluate an alliance."