Strong Partnership and Collaboration Models

Alliance & Collaboration Capability

Transform your business to become more competitive through powerful partnerships.

Collaborative Skills Mastery & Professional Development
Investing in people and skills mastery for higher performing partnerships.
Ecosystem Design & Optimization

Align ecosystem strategy with corporate objectives and partner motivations.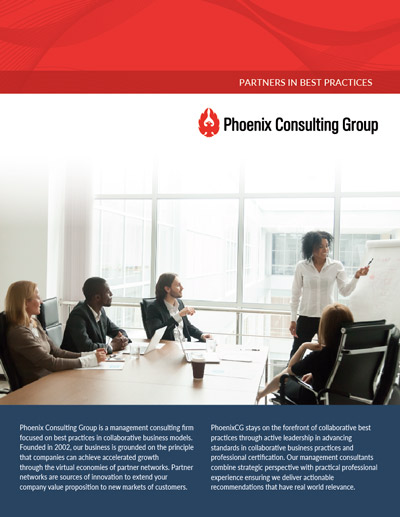 Phoenix Consulting Group  Brochure
PhoenixCG practices and services help companies optimize their return on relationships. Our practices areas cover strategic development, operational systems and processes, and professional skills development for all types of partnerships and collaboration models.
"The Partner Health Survey got us to concrete results. We were able to uncover issues that we otherwise wouldn't have been able to discover without the comparison of the two different perspectives. This process had a material impact and we incorporated many of the recommendations in our fiscal year plan."
Contact us for a free consultation.