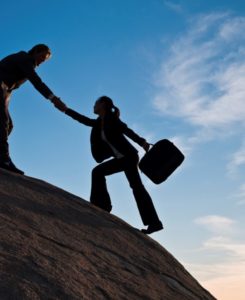 Small businesses have been unusually hard-hit in these uncertain times. The dynamics of the partner ecosystem is that most of the partners are small business and they serve small businesses. Being a small business myself, I know how precarious cash flow can be. Many of these businesses are seeing their revenues shut down as their customers shutter their business, even if it is only for the duration, whatever that means.
I recall in the 2001 dot.bomb when the internet boom went bust, the partner ecosystem of my company was also hard-hit and quite precipitously. We lost 25% of our partner ecosystem. They just evaporated. This could be an indicator what may still be ahead.
Large vendors with large ecosystems are also hit, but many have the resources to weather the downturn. Many are concerned that if their customers and partners shut down, they will have a much harder time recovering when business does open up again. Some of these large ecosystem orchestrators have deep reserves and the foresight to help partners bridge the pause in the economy.
I have been heartened by the response of several of these ecosystem orchestrators, IBM, AWS, Microsoft and others in their forward thinking approach to provide partners some relief. Here are some of the measures I've seen put in place.
1. Relief from revenue attainment thresholds. Many partner programs are structured such that certain benefits are unlocked when partners attain a certain level of revenue sell-through or influence of a vendor's products. This is an easy requirement to lift and goes a long way toward good will. Many vendors are enabling partners to continue at their current benefit level for the current evaluation period with the understanding that what is truly valuable is the continued investment and loyalty, not hitting a number.
2. Financing accounts payable. For small businesses, in particular, when customers cannot pay, the partner cannot pay. Many companies have set up short term financing for their partners that can pass through to their customers to defer payment for a few months and setting up repayment terms as very low rates.
3. Moratorium on renewals of credentials, certifications, specializations. This relieves the partner from dealing with this in the short term and potentially losing benefits and incentives that are predicated on meeting the requirements to renew and retain these credentials. On the other hand a few partners have remarked "my engineers have time on their hands". Hence the next measure.
4. Free On-line learning and certification. When your engineers are sitting idle, it's a good time for them to refresh their skills or gain new ones. Many partner organizations are actively promoting on-line learning, providing vouchers to offset costs of training and certifications and implementing remote exam proctoring, if they don't already have it.
5. Complementary software for work-from-home enablement or customer-care/response. There has been an exceptional surge for collaboration tools as much of the workforce is now at home. Microsoft TEAMS, Zoom, Google Meet have all been proactively pushed out to customers through partners to meet the demand and to seed the market for paying clients when urgency is over.
ServiceNow and SalesForce have similarly offered free trial periods for their customer care software along with free tech support in some cases, to help companies deal with a surge in customer calls and inquiries. Again extending a short term offer while betting on a long term customer.
6. Enabling relevant, immediate sales opportunities. On top of these free trial offers for web-conferencing, partners are asking for sales tools, use cases, and other aids to help them sell into the opportunities that are highly relevant and in-demand during this crisis. These include anything that enhance the work from home experience but also many health care applications that directly address the needs of healthcare workers and providers.
7. Regular upbeat community service message. It's more important than ever to engage with your partner community. Inform them of the relief measures you have adopted to support them. Communicate corporate social responsibility initiatives your company has taken to aid the fight against the pandemic and to provide social support to people in the community. IBM, Microsoft, AWS, and Salesforce have contributed not just money, but computing resources, technology and expertise to ensure better data and intensive compute resources to inform health professionals about the spread of the disease and the effectiveness of measures to slow the curve. Locally, Microsoft and AWS have joined in funding the Seattle Foundation to help the local community.
How can you respond? In your own business think about the challenges your customers are facing. Chances are many of those customers rely on your partners. How can you provide relief through your partners to help them weather this period of uncertainty?
What unique challenges are your partners experiencing? How can you ensure that when the economy reopens, your partners are still healthy and ready to bounce back?
As we become more interconnected as an ecosystem, more interdependent, we are truly 'all in this together'.