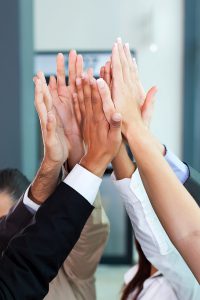 Investment in Talent to Grow and Innovate
To many organizations, alliances and strategic partnerships are "the new way businesses grow and innovate," particularly as they experience a rising profile within the C-suite.  As partnership alliances become an increasingly important source of innovation for companies, they are integral to future success. One study cites that 51% of CEO's want to prioritize innovation and access to new technologies through partner initiatives. Another 46% of survey participants note a preference for partner initiatives to instead focus on ways to access new customers.[1]
Companies that develop strategic partnerships are more successful than their peers.[2] Best practice research from Phoenix Consulting Group has shown that the most effective alliances are those that are directly aligned to the corporate strategy as well as deeply collaborative when developing the partnership. This is accomplished by involving senior leadership, stakeholders, and partners in designing the strategic intent of the partnership[3].
Partner Management as a profession seems to be gaining in stature and recognition. Partnering professionals are taking on a very expansive role in managing partnering activities across business units and across functional boundaries even though their management role is usually confined to one of influence and alignment. As remarked by one of our colleagues Steve White, an Alliances Analyst at IDC, "Alliance managers are general managers, but without teeth."
Partnering professionals come from all walks. It's an interesting question to pose to a large group of partner managers: "How did you come into the profession?" Some come from technical backgrounds, others from sales or marketing, as well as those from project management backgrounds. Each brings a different perspective and skill set.  Effective partner managers must be able to unite the interests and energies of employees across various business units and functions to a shared vision and more importantly, to respect the role that each group contributes to the successful operation of the partnership.
When you look at the composite of skills required by a partner manager, it goes beyond the soft skills of relationship management. While soft skills are important, a partner manager also needs a strong complement of business management skills including: strategic thinking, financial and business acumen, and a sound understanding of industry trends and the competitive landscape.
Partner Managers should position themselves as not merely managing a relationship or even partner sales, but as managing a business with the capacity to deliver innovation, new streams of revenue and bottom line impact.  Businesses with a robust partner program have come to realize that the partner management role is an excellent training camp for the next generation of leaders.
With talent management coming to the forefront of corporate thinking these days, businesses should be strategic in enabling and developing the full suite of general management skills of their partner managers to drive innovation and incremental growth opportunities.
Read the full white paper: Making Partner Managers Winners – What They Need to Succeed
---
[1] 18th Annual Global CEO Survey, PWC 2015
[2] Leading Through Connections: Insights from the Global Chief Executive Officer Study, IBM 2012
[3] Alliance Best Practices Research: Revealing the Leading Practices of High-performing, Go-to-Market Technology Alliances,  Phoenix Consulting Group 2013