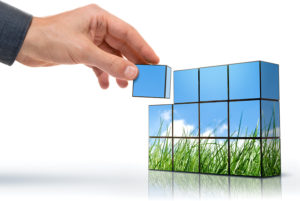 or How to Build to Build Partner Ecosystems for Agility, Innovation and Growth in Your Business as published in Forbes.com.
As someone who has been architecting and managing business partner ecosystems for more than 30 years in the tech industry, I am quite interested in the attention ecosystems have been receiving from management pundits of late.
I've observed that more and more companies are beginning to think of partner ecosystems as a "new" way to help boost growth and innovation. I, however, believe they always were. Now that more industries are becoming digitally savvy, these partner ecosystems are a critical way to navigate digital disruption and become more agile and responsive to change.
Why build partner ecosystems?
My favorite example is John Deere. I have no ties to the brand, but I find its evolution to be an excellent example of partner ecosystems. John Deere is a 180-year-old company that is known for its tractors and builds a range of industrial equipment and machinery.
As a farmer's daughter, I learned to drive a tractor at the tender age of 6. Never did I imagine even a few years ago that a tractor would become an internet of things edge platform. The modern John Deere tractor can gather data and upload it to the cloud to be utilized by independent software developers for a spectrum of applications, which farmers can then access from computers, tablets or smartphones.
John Deere introduced this ecosystem platform to differentiate its product and to better compete with less expensive, commodity tractors. They no longer sell just a tractor; they now sell digital farming and the ecosystem makes it possible. No one company could build, install and maintain the range of applications or spark the innovation that comes out of multiple partners eager to create new customer value by leveraging the John Deere name, platform and market reach.
This network of partners creates business resilience. There are many ideas and new products that help not just John Deere but all its partners to be more responsive to changing customer requirements. By sharing their knowledge of the customer, they can all be more aware of trends, and someone in the ecosystem will have the next big idea that can be leveraged to respond to change and improve the customer experience.
Ecosystems also provide stickiness. What do I mean by that? Well, let's say the average farmer buys three applications from the ecosystem, and they come to depend on these applications in managing their business. Each application provides its own unique set of benefits, but imagine that one day, the farmer needs a new tractor. The farmer is more likely to stick with the same manufacturer so they won't have to give up these applications or switch to new ones. There is an inconvenience built into switching. It's not exactly loyalty, so it's called stickiness.
How does one build this type of ecosystem?
Always start with the customer. How you frame the customer problem will lead to how you build the ecosystem. You can do this by asking yourself:
1. What problem am I solving for customers today?
2. Are there other pain points I am not addressing?
3. Are there companies in my market that provide solutions to fill in the gaps?
Your best partner prospects are serving your customers today, providing complementary products and services. In my own business, for example, my clients often ask for more analytics. I don't provide that service myself, but I have partners that do. I provide greater value to customers because I do have an ecosystem of partners that extend the range of solutions I can provide.
The key to recruiting partners is understanding they need a business reason to become a member of your ecosystem. Be clear on how they will benefit and create a plan for how you will partner to create that benefit. For instance, how do you include your partner's goods and services in the bigger solution? How do you market and sell together to reach customers and generate revenue?
Adopt a win-win mindset
When your partner wins, so do you! By engaging in your ecosystem, partners become part of the bigger solution and gain access to your customer base. You also gain access to their customer base as a result of the relationship. In successful partner ecosystems, all parties gain considerable market reach and share in the benefits of business resiliency, innovation and stickiness in being part of the ecosystem.
John Deere is just one example of how a product company became an ecosystem platform. There are many others. As customer solutions become more complex, it takes an ecosystem to provide the suite of products, services and expertise to solve the problem. No one company can do it alone. I believe that every company, large or small, should seriously evaluate if they have the opportunity to build an ecosystem platform or join one. From my perspective, being part of an ecosystem is certainly a strategy that can't be overlooked