A View from the Trenches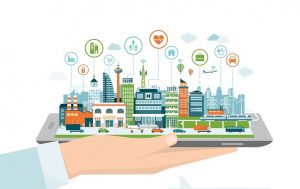 IoT (Internet of Things) has been and continues to be predicted as one of the most compelling factors for driving digital transformation spanning business to business, business to consumer, and government (federal, state, and local).  Gartner Inc., the technology research firm says "8.4 Billion "Things" will be in use in 2017, up 31 percent from 2016″. And by 2020 the number of 'Things' will reach 20.4 Billion.
What is IoT? IoT is simply a giant network of 'things' connected to each other and to the Internet. Wikipedia defines Internet_of_Things as "the inter-networking of physical devices, vehicles (also referred to as "connected devices" and "smart devices"), buildings, and other items—embedded with electronics, software, sensors, actuators, and network connectivity that enable these objects to collect and exchange data."
Why Are Use Cases Critical for Go-To-Market Strategy & Execution?
The Big Data and IoT landscape is littered with many failed IoT projects, particularly in the business-to-business or Industrial Internet of Things (IIoT) and in government which has created uncertainty and concern with potential customers.
Remember customers buy products or offerings to solve business problems or do a specific job such as 'How can I use sensor data from my fleet of trucks to optimize fuel usage, maintenance downtime, and scheduling?'.
The technology components of the end-to-end IoT solution span multiple categories- device & sensor hardware and software; communications and the Internet; cloud platforms and applications; and analytics and is very complex in scope. To provide business value, it is not sufficient for the data to be collected, processed, transformed, and transmitted; the data and resultant analysis must solve the customer's Problem.
That is why having a defined IoT Use Case tuned to a specific set of customer problems with expected business value outcomes, is critical to successful Go-to-Market strategy and execution. A defined Use Case reduces the risk for both customer and suppliers.
IoT Use Case Elements- A Few Checklist Items
Target Customer: Industry or Vertical
Target Audience:
– Budget Holder – (e.g. Chief Marketing Officer, CIO, VP Manufacturing/Operations, Board or Council for Metro, Local Government)
– Decision Makers – (e.g. Director of Marketing, Director of IT, Edge Professional)
– Influencers – (e.g. Data Scientists, BI Analysts, Data Architect, Edge Professional)
Business Outcome
Use Case Description/Purpose
KPI's Monitored
Business Insight/Corrective Action
Value Proposition
Data Sources, Types, & Flow-
– Includes IoT Architecture (As Is and To Be)
IoT Use Case Challenges/Take Aways
Resource requirement

: Define expected business outcomes along with resources required for both Customer and Supplier. As a Supplier make sure you have the commitment of resources from your Partners in delivering the Solution. Example: If a Discovery session is part of your pre-sales process and professional services resources are required to conduct and deliver the Discovery results, make sure you have clearly defined If and How your professional services resource (Internal or Partner) will be compensated. Most Professional Service Teams (Internal, VARs, Systems Integrators, etc.) are compensated and motivated to 'Fulfill' demand not 'Create' demand.

Proof-of Concept Vs Pilot

: When positioning the Use Case 'stage' as either a Proof-of-Concept or a Pilot with a customer, make sure you clearly articulate and define the Use Case 'stage' to the Customer. Customer's perceive Proof-of-Concept as alpha, beta version not ready for purchase versus a Pilot which is perceived as 'ready to buy'. Most government entities (state, municipal, local) in IoT market only want to Pilot solutions ready for purchase.  Too often suppliers use these terms interchangeably which causes confusion to all parties (customer and solution partners)

Anatomy of the Deal

: Understanding the anatomy of the deal for all parties involved is particularly crucial in the IoT market due to scope, diversity, and complexity of systems and resources involved. Customers prefer an easy, simple, and seamless transaction and not be required to referee a 'food fight' among suppliers.

Story Telling

: A clearly defined Use Case enables better 'Story Telling' to customers as well as internal and partner teams. 'Story Telling' is a great tool for internal development teams that are employing Agile methodologies and processes.
About the Author
Dennis Lyftogt is an experienced Go-To-Market technology commercialization professional. His diverse business experience includes-sales, marketing, business development, partnerships (alliances and channels), and consulting.  He has successfully worked with diverse executive management and stakeholder roles to deliver business value to customers, clients, and partners.
His most recent professional experience was as a Go-to-Market consultant with Cisco Systems, Inc's Data & Analytics Software Incubation & Strategy Team. The Team lead the launch of a joint Cisco and IBM offering targeted at edge analytics and cognitive IoT markets and successfully brought to market two automated machine learning software products (OEM Partnership).
Dennis has over 25 years of experience in Silicon Valley technology community from start-up to Global 2000 companies this experience includes: BEA Systems (Pre-& Post-IPO); myCIO.com (pre-IPO; First Security ASP (SaaS) market entrant); Forrester Research; Dataquest/Gartner Inc.