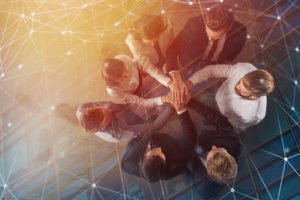 Building a partner ecosystem is hard. But what's harder than building an ecosystem? Building a culture that supports an ecosystem strategy.
I spoke with one executive who was responsible for building the partner ecosystem at a well-known payroll processor, and our discussion perfectly illustrated this challenge. The executive's decades-old company was expanding beyond payroll processing into a full suite of human resources tools in the cloud, which was enabled through partners. But the executive was struggling with helping the organization understand how to work with those new partners.
And as seasoned partner managers can attest, the internal collaboration (i.e., working across your own organization) is often more difficult than external collaboration (i.e., working with partners). With seven general managers heading seven business units within the executive's company, finding common ground was difficult. Each had a different view of how to engage with partners.
In my experience, this situation isn't uncommon. Some managers don't naturally know how to work with partners. It takes a win-win attitude — an understanding that you don't win unless your partner wins. If there is no value in collaborating, then (assuming your partner is savvy in business) they will quickly disengage or ratchet back their investment to meet the expected return on the relationship.
I've also worked in environments with managers who think only about what they can get at the expense of partners. This is especially toxic to working within an ecosystem. Ecosystems, by their very nature, are less process- and governance-controlled. They rely on trust and mutually agreed-upon principles to operate. But they especially rely on a culture that embraces value creation through collaboration.
So how do you build these cultures? In a market-facing ecosystem, start by prioritizing the following three things:
Engaging Sales Teams
Pivotal to demonstrating the value of a market-facing ecosystem and changing the mindset of business leaders is engaging sales teams. Engaging sales teams with the partners in the ecosystem gives salespeople more opportunities to connect with customers and find more solutions to address their needs.
Some of the key activities to jump-starting the co-sell engine are:
• Getting regional and territory sales leaders on board: This usually cannot be done all at once. What I have found works is to pick a few willing sales teams with an entrepreneurial bent and piloting a co-sell initiative on a few accounts. Cover those early initiatives with lots of resources and attention, and handhold them to success. These become the lighthouse accounts that show other sales teams how to win with partners.
• Enabling the sales teams to manage deal flow and local partner relationships in their territory: You've reached the tipping point when sales teams are working arm in arm with partners and doing so without a lot of corporate oversight or interference. Provide sales with tools and guidance regarding which partners are in the ecosystem, how they fit in your product line-up and how to work with them.
• Engaging customers in a more strategic conversation about their business: Sales teams will be empowered to have a much more strategic conversation with customers since they have a broad portfolio of solutions due to the richness of the partner ecosystem. They will be able to address more compelling business outcomes that benefit the customer and orchestrate a solution through partners. This greatly increases your value to your customers.
Building Credibility
Discipline around metrics is another driver in influencing the culture to adopt "ecosystem-first" thinking. These metrics provide rational proof points. At the strategic level, the goal is for companies to be able to demonstrate successes such as:
• Revenue growth through the ecosystem;
• Whether the market share in some segments of the business has grown;
• Greater win rate and growth in ecosystem deals versus the traditional "my company owns it all."
One of the major challenges, even in a successful co-sell model, remains revenue attribution. How much did the partner influence? This can be problematic at an individual opportunity level because influence is not conducive to measurement, but the overall impact of the ecosystem before and after can be clearly apparent.
To remedy this, track hard data on key progress indicators such as win rate, time-to-value, lifetime value and footprint in the account. In my experience, organizations that are diligent in tracking these metrics often find that working with partners results in bigger deals, faster close rates, higher close rates and higher customer loyalty.
Continuing Cultural Evolution
Cultural change is never a one-and-done project. Your company's culture is ever-evolving, and it is important to maintain momentum. Focus on:
• Gaining internal alignment on priorities and goals across the business;
• Continuing to build on the great partner relationships;
• Creating compelling customer experiences with partners;
• Investing resources and budget to support the ecosystem;
• Maintaining the discipline in tracking metrics and improving performance.
The ecosystem model can be a compelling strategy for increasing your company's value to customers and partners and improving the bottom line. I believe that as more companies adopt an ecosystem business model, fostering a collaborative culture becomes strategic to success.