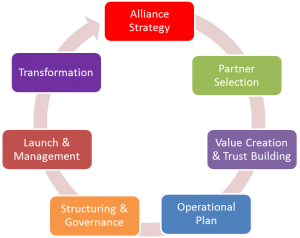 Alliance management is in many ways a young profession, yet there is a set of defined processes and practices that have been shown to be effective in creating and operating successful collaborations.   Research has shown that companies that approach collaboration through ad hoc practices rarely succeed and those that apply a disciplined approach can consistently realize over 80% success rates. Most successful alliance companies have a lifecycle process framework. The diagram depicts the one advocated by the Association of Strategic Alliance Professionals. Adopting even a few practices from this model can greatly raise your return on your most important business relationships.
Alliance Strategy.  Collaboration is not always the most effective approach to execute on a strategy. It is important to evaluate when greater value can be created through a partner versus a build or buy approach.  Key to developing a sound alliance strategy is understanding your objectives in partnering. Is it to gain access to markets, develop new technologies or products, engineer resiliency in your supply chain, or create a distribution channel?
Partner Selection.  Equally important to having the right strategy is having the right partner. Carry out a thorough due diligence in selecting the right partner.  Partners are vetted according to their strategic fit, operational fit, and cultural fit to your company.  Their sophistication in partnering is also a key factor, in that there is never a perfect 'fit' but savvy partners know how to bridge the differences and work together effectively.
 Value Creation and Trust Building. This begins when you first meet your potential partner and continues throughout the life of the relationship.  Trust is built through a common understanding and vision for a joint future. It is that alignment that enables collaboration and value creation.  As partners work through the business planning process, expectations are fleshed out, relationships are formed, and trust is built. Since alliances are dynamic organizations, this process is ongoing and critical to the end results.
Operational Plan.  The operational plan breaks down the details of how the work of the alliance is to be accomplished. The plan describes the roles, responsibilities of the partners, the resources and people who will assigned to the collaboration and the activities, tasks, and timelines.  Most companies are very good or at least competent at operational planning. The partnering twist is that these plans are developed jointly which is why setting up an environment built on trust is crucial to the forward success of the alliance.
Structuring and Governance.  Governance includes the formal structure of the alliance, the committees and bodies where authority is vested to manage and provide oversight to the alliance. One can characterize governance as an exercise in balancing trust and control on a fulcrum of risk – risk in performance and risk in relationship.  Governance addresses the risk in relationship by managing and melding different work styles. This is done by identifying the different ways of working and decision making, then coming to agreement on how things will be done within the alliance.  In a skillfully developed governance model, the best of both are incorporated. Since not every eventuality can be predicted and documented in a contract, one proven and useful tool is developing a set of operating principles that codify the collaboration's vision and values and advocates the desired behaviors to bridge difference in work styles.  For example: "We will treat each other respectfully, even when we disagree."
Launch and Management.  Up to this point in the lifecycle, the alliance is team is usually limited to a finite number of people engaged in planning and structuring the collaboration.  Launching the alliance involves expanding the team and implementing work plans.  One of the key launch events is ensuring alignment of the entire team to the vision and objectives of the alliance, being clear on roles and responsibilities, and communicating the governance model and operating principles.  Collaborating on a Team Charter is a powerful exercise in achieving that alignment. The Team Charter captures the overarching purpose of the alliance, its objectives, value proposition for each stakeholder, roles and responsibilities and the operating principles through a co-creative process that builds trust and common cause among the team members.
Transformation.  Alliances are inherently dynamic; rarely are they static over the course of their lifecycles.  The most successful ones are capable of evolution, innovation or transformation to achieve new strategic intents.  The ability to successfully adapt to changing conditions is both structural and cultural.  Alliance governance that is overly rigid will stifle innovation and thwart efforts to adapt to changing conditions.  On the other hand an open-minded and flexible culture will embrace adaptation.